Sonoff, very large manufacturer of "geekable" products for home-automation, now announces release soon of a wall-mounted 3.5″ touch-panel 😉
After having mainly released some interface boxes, or control boxes, Sonoff extends its portfolio with a touch-panel (at least !).
For sure, all automation control on a mobile device (phone or tablet) works for most casses but in some situations, wall-mounted touch-panel is yet the easiest and confortable solution (home main entry, alarm control, global thermostat, global opening/close of shutters, …).
The 3,5″ screen with two external mechanical buttons, temperature and luminosity sensors, allows you to control all you existing Sonoff devices and interfaces in your home through the eWelink app (avalaible on Android and IoS). It includes the usual Wifi 2.4Ghz, Bluetooth BLE, and ESP processor (it'll allow you to use it also in "geek" mode, I'll talk back later about that).
Sonoff delivers there a simple and easy to configure device through mobile app, allowing everyone to start/continue with home-automation easily and without need to be a computer engineer or a geek 🙂
Technical specs known so fa as communicated by Sonoff below and if you are ready to try it, it's available through a crow-funding on Kickstarter (https://www.kickstarter.com/projects/sonoffnspanel/sonoff-nspanel-smart-scene-wall-switch?ref=81edpd) platform and deliveries are expected for end of year (just in time for Christmas tree 😉 For around 74€ for touch-panel and 6€ shipping, you'll get a pretty cute wall-mount touch-panel for all your control needs ! Warning, Kickstarter campaign ends on November 10th 2021, so don't be late if you want to secure your one !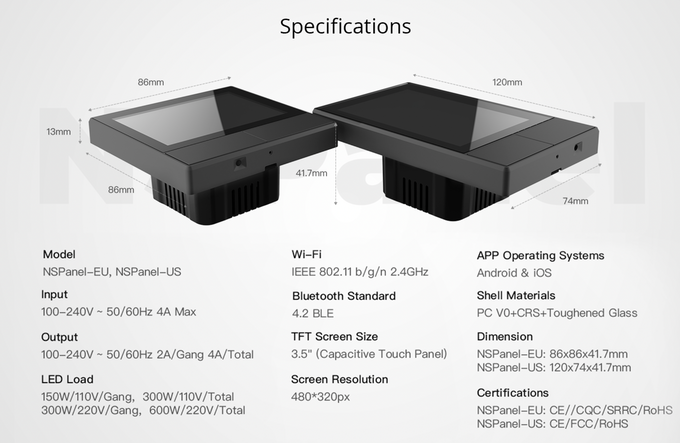 More details in next few days with a complete review both in eWelink mode (noob mode) and in geek mode (flashing devices) for use with third parties home automation system 🙂